"A Christmas icebreaker game that lasts for as little as 45 minutes can boost and uplift your employees in so many ways. The lead up to the festive season is a busy time where burnout is a high possibility for many. Don't forget to carve out some time with colleagues to have fun and celebrate."
Christmas and end-of-year celebrations at work can come with a lot of time and social pressure for teams. One way to guarantee festive fun in a quick (and simple) format is to consider a Christmas icebreaker game. Playable in just 45 minutes, they are flexible activities that will get everyone talking during Christmas parties and meetings. Christmas icebreaker games are also great for connecting and bonding teams in virtual and in-person settings.
These short, festive icebreaker games are similar to Christmas Team Building Activities. Some are seasonal editions of our classic Icebreaker Games, Team Quizzes, or Virtual Escape Rooms. Christmas icebreaker games are also categorised under Indoor Team Events and Winter Team Building Activities.
Christmas Icebreaker Games For Work
Below is our list of Christmas icebreakers for work and Christmas party icebreaker games for adults. This blog includes:
Christmas icebreaker questions
Virtual Christmas icebreaker games
Christmas icebreaker games for the office
Virtual Christmas Icebreaker Games
1. Festive Escape Room
A virtual escape room is a popular Christmas party icebreaker game. Our Escape: Festive Edition activity is a 45-minute version that will add excitement to your team celebrations! One of our Remote Hosts will guide you through 5 virtual rooms packed with festive riddles, puzzles and brainteasers. Your aim is to escape Santa's workshop and return the naughty or nice list to him before the time runs out. To play, you'll need the Mobile Adventures app and your chosen video conferencing platform.
Find out more about Virtual Escape Rooms and Christmas Team Building Activities.
2. Christmas Trivia
Think you and your team know your crimbo knowledge? Test it out in this classic online Christmas icebreaker game! Our Virtual Festive Trivia Challenge is packed with 12 rounds of Christmas-themed questions, brain teasers and 'snow' much more! Work together in small groups (using breakout rooms) to complete the challenges and earn the most points!
Check out our Christmas Social activity for a longer (60-minute) game.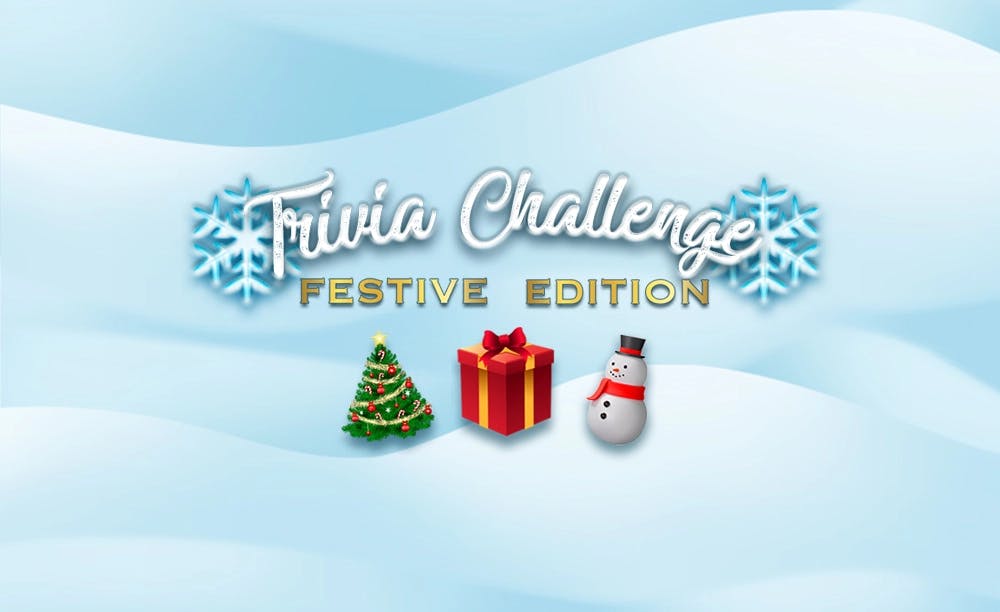 3. Virtual Christmas Scavenger Hunt
Nothing breaks the ice like a good scavenger hunt! We've created this festive version to bring remote and hybrid teams together. Teams will play 3 quick-fire rounds loaded with seasonal trivia and photo and video challenges. You'll need to scavenge items from your home or office and answer questions against the clock to earn points! This activity is played via the Mobile Adventures app and video conferencing software. Top tip: The more creative (and funnier) you get for the photo and video challenges, the better!
Discover more about Scavenger Hunts and Quick Team Building Activities.
4. Christmas Icebreaker Questions
Try adding these Christmas party icebreaker questions to your end-of-year meetings or virtual festive celebrations. They'll be sure to spark conversations and get some laughs!
What's your Christmas / winter beverage of choice?
Which actor would play you in a Christmas movie?
What is the worst gift you've ever been given?
What is the best gift you've ever received?
What's your favourite part of a Christmas dinner?
If you could spend Christmas anywhere in the world, where would you choose and why?
What is your favourite Christmas film?
Have you ever told someone to their face that you didn't like their gift?
When is it acceptable to put your Christmas decorations up?
Which colleague is most likely to drink the most at the Christmas party?
Feeling inspired? Here's our list of icebreaker questions for work.
Christmas Icebreaker Games For The Office
5. Office Games: Festive Edition
This festive in-person challenge is a fun Christmas icebreaker game for work. You don't even need to leave the office to play - simply gather your team in a meeting room or around their desks! To begin, you'll be split into smaller groups of 4-6 players. Then, using your smartphones and our Mobile Adventures app, you'll work together to play through 20 festive photo & video challenges. Top top: Bring your best creative skills and use as many props as you can find!
For more indoor activities, check out Office Games and In-Person Events.
6. Share Your Favourite Christmas Memory
A Christmas icebreaker game perfect for small groups who want to get to know each other better. Not only is sharing memories a great conversation starter, but it also gets everyone in the festive spirit. You could even ask everyone to bring in their favourite Christmas gift (or photo) to add to the nostalgia! This game can be adapted to play virtually too.
Final thoughts
The festive season is an important time for teams to reflect, bond and talk to one another. Christmas icebreaker games are a sure way to relax colleagues and ease pressure at one of the busiest times of year. They create opportunities to celebrate and have some fun without taking up too much time. Add these quick, flexible games to Christmas meetings or events to bring some much-needed festive cheer to your office or remote team.
For more festive inspiration, take a look at the 10 Best Christmas Office Party Games and our guide to Virtual Christmas Party Ideas.
Celebrating in the USA this festive season? Check out our list of Holiday Icebreaker Games For Work & The Office.
FAQs: Christmas Icebreaker Games
What are Christmas icebreaker games?
Christmas icebreaker games are holiday-themed team building events designed to encourage conversations and bonding between colleagues. They are the festive editions of Icebreaker Games and include fun icebreaker questions. These fast-paced activities are suitable for remote, hybrid and in-person teams. Christmas icebreakers are often associated with Christmas team building activities, virtual Christmas Games, or Zoom Christmas parties.
What are the best Christmas icebreaker games to play at the office?
If you're planning some Christmas icebreaker games to play at the office, we recommend in-person activities that encourage lots of conversation and storytelling! The games and questions should also be inclusive for those colleagues who don't celebrate Christmas. Here are some Christmas and non-Christmas icebreaker ideas:
What are some fun virtual Christmas icebreaker games for work?
Here's some great virtual Christmas icebreaker games to play on Zoom (or your chosen video conferencing platform):