The Brief:
Wildgoose was approached by a team of civil servants based in Warrington, UK who were seeking an in-person challenge to help integrate and motivate their colleagues. Their objective was to bring everyone together to improve social interactions and onboard new team members who had been recruited during lockdown.
With a team of 40 employees (several of whom hadn't met in-person before), it was key that their event experience provided plenty of opportunities for team bonding, socialising and fun!
The Solution:
Following their initial enquiry about our spy and murder mystery activities, we knew the perfect solution to fit their brief would be our Spy School: In The Field challenge. An interactive Outdoor Activity, we knew it would encourage the group to get out and about around Warrington with their new teammates, all whilst breaking the ice and having a laugh with one another. Win, win!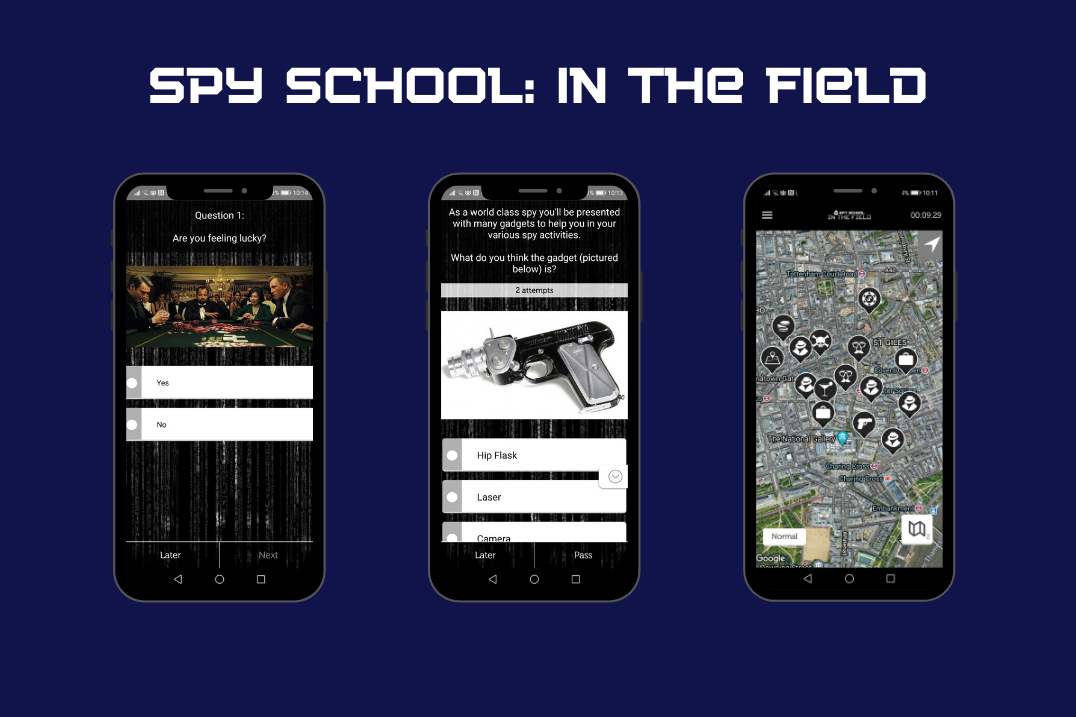 Spy School: In The Field is a fun, high-energy activity with plenty of collaborative challenges to bring everyone closer together. It has an engaging storyline to match in which players are undercover spies working on a high-profile case. Players must locate GPS hotspots around their chosen location that contain a series of photo and video challenges, puzzles, riddles and codebreakers. Their mission is to gather information and clues about the suspect at the centre of their mission whilst earning points for challenges completed!
On the day of the event, the group were briefed (virtually via video link) on their spy mission by one of our Remote Hosts before being split into teams of 5-6 players. Using their smartphones, the teams then headed out into Warrington to locate GPS hotspots, complete tasks and gather as much as much information about their suspect as possible.
To earn maximum points, players needed to pay close attention, think on their feet and communicate effectively to crack the tasks - a great way to get everyone talking and socialising! The variety of challenges provided plenty of opportunities for silliness and team bonding, which everyone loved!
One of our experienced Remote Hosts was on hand throughout their activity to provide support and answer any questions the teams had. Shortly before the timer was up, each team was invited to choose a culprit from a lineup based on the intel and clues they had gathered using the app. Great detective work!
At the end of the mission, everyone came together at the chosen venue where our Remote Host virtually presented the winning teams and the best photos and videos were shared in an exciting finale!
The Results:
We were very excited to deliver this In-Person Team Building Activity or this team, especially as it was bringing new and existing employees together for the first time in over a year! Whilst our Remote Host ran the event virtually, the Wildgoose team were really pleased to provide them with a much-needed opportunity for some team bonding, socialising and fun.
"It was really good fun and very beneficial to the team and all those involved. The only criticism was that it wasn't long enough!"
Following their event, the team gave us some fantastic feedback saying the spirit amongst the group was much better and that colleagues were interacting with each other more. They even added that they wished the activity had lasted longer! After some initial concerns about travel and timings, they appreciated how flexible and accommodating we were in allowing them to extend their activity time. They told us their objectives to integrate and motivate the team were met and the activity was really good fun and beneficial for all those involved.
Connect your team with Spy School: In The Field, or select from our range of Outdoor Team Building Activities to find the perfect activity for your team!