The Brief:
Our partner at King's Place, one of London's premier conference venues,  contacted us with a brief for a group of 80 delegates from Samsung who were meeting for a conference. A gap in their conference schedule had appeared at the last minute which leant itself perfectly for a team break-out activity and having worked with us many times before, The Events Team at King's Place did not hesitate in recommending Wildgoose to provide this.
The Wildgoose team got to work straight away and arranged a site visit and meeting with the client to gain a clear idea of the overall objectives for the activity.  We were tasked with providing a fun and interactive 2-hour technology-led team activity to take place entirely indoors in this large, unique London conference venue, whilst utilising Samsung's own tablet devices at the venue.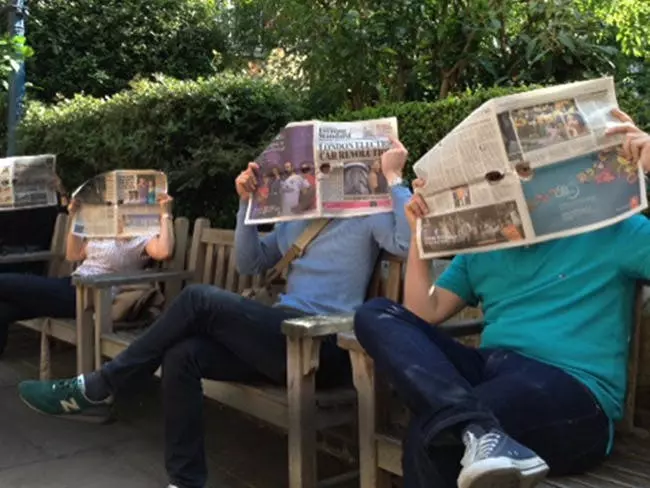 We knew immediately that there was just one theme for the job and set to work personalising our "Indoor Spy School" team challenge within the tight time constraints.
The client had full use of the 400-person capacity venue and so wanted to fully utilise the space and varying rooms with a bespoke team activity focused on fun and interaction among colleagues.
The morning conference session was a heavy one and so the overall spirit of the break-out event was to re-energise, motivate and relax the participants. The inclusion of their own technology was of great importance to Samsung and so we aimed to facilitate this on the day by loading all teams' tablets with our award-winning app and their personalised 'Homeland' meets classic 'Bond-themed' activity.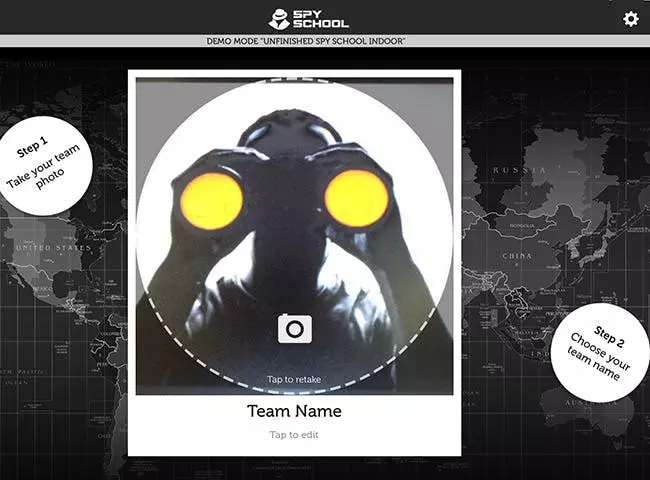 The Solution:
Wildgoose provided a 2-hour Indoor Spy School-themed team tablet activity. Teams travelled around the venue in order to unlock an array of challenges via the use of Image Recognition technology and immersive interaction with staff members in order to provide some of these image triggers. A number of interactive hotspots around the venue were released throughout the challenge onto the indoor map by the Event Manager, forcing teams off track, and resulting in them competing in a race to complete the challenge.
The live scoreboard maintained the competitive spirit alive throughout the challenge, as teams completed a mixture of fun photo and video challenges, cryptic puzzles and spy quiz challenges. As teams gained points they received additional spy profile evidence in order to work out "Who Killed Agent Jones".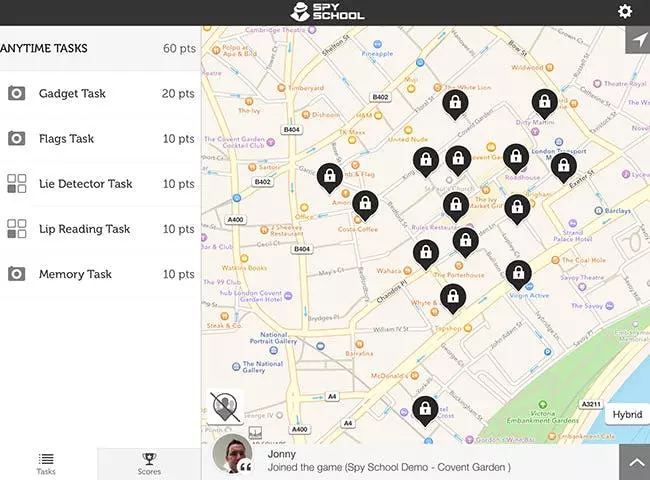 The Results:
The 2 hours resulted in lots of interactive fun, teams exploring the venue and a brilliant photo and video wrap-up session with everyone in fits of laughter. The teams were upbeat and re-energised in order to head back into their afternoon conference sessions.
Teams loved the fact that there was a vast range of challenges and activities with something for everyone. The highlight for all was by far the 'immersive theatre' element of the event, requiring teams to work out cryptic clues in order to interact with varying members of staff. For example, locating a barman and giving the password "Shaken Not Stirred" granted them the Martini bottle label they needed to scan as an Image Recognition trigger to reveal bonus challenges. The mix of 'immersive' interaction and Image Recognition was a real winner for this tech-savvy bunch!