The Brief:
Samsung is an electronics specialist, constantly innovating using cutting-edge technology to create a world full of richer digital experiences. So, when it came to launching their new QLED 8K TV, it was Wildgoose – an innovator in technology fuelled events – that they approached to help bring their vision and latest product to life.
As part of their product launch, Samsung was set to be running 6 exhibition-style events (three in London & three in Manchester) to train sales staff from retailers including Currys/PC World, Dixons and independent retailers on the new TV's key selling features; as well as showcasing other exciting Samsung products and innovations. Wildgoose was asked to create an immersive, product education experience that would facilitate the journey groups would make around the exhibition, whilst at the same time encouraging learning retention and in-store peer-2-peer learning. With 1,200 people expected across the 6 days, the events needed to not only be informative but engaging enough that delegates were able to retain their new product knowledge in order to sell Samsung technology effectively back in store.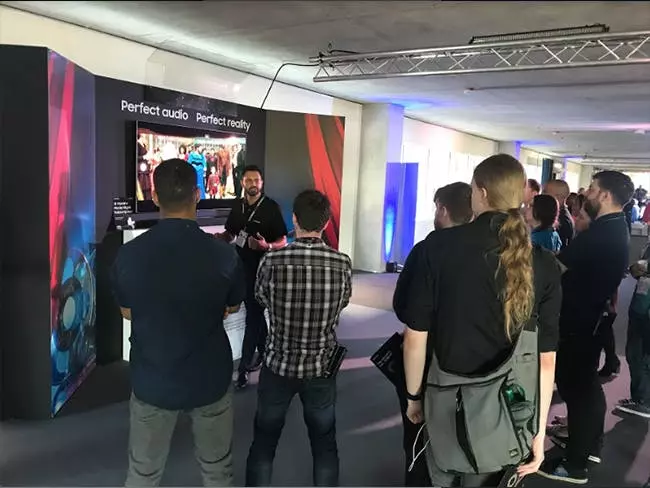 The Solution:
Our Exhibition Explorer provided the perfect Indoor Activity to build from for a completely customised solution for Samsung's event series. We designed two completely bespoke floor plans, for both London and Manchester, which acted as unique indoor maps for each venue. The indoor maps depicted 10 different zones that groups would have to explore with the help of the app, these zones were represented physically in the form of exhibition stands, as well as virtually and included realistic living room set-ups, a night club, and a movie area. 
The client provided us with all the essential content that needed communicating through the game, including product specifications, visuals and details about the activities in each zone, it was then down to our creative team to turn these into engaging, fun tasks and challenges that would help communicate key sales information back to participants.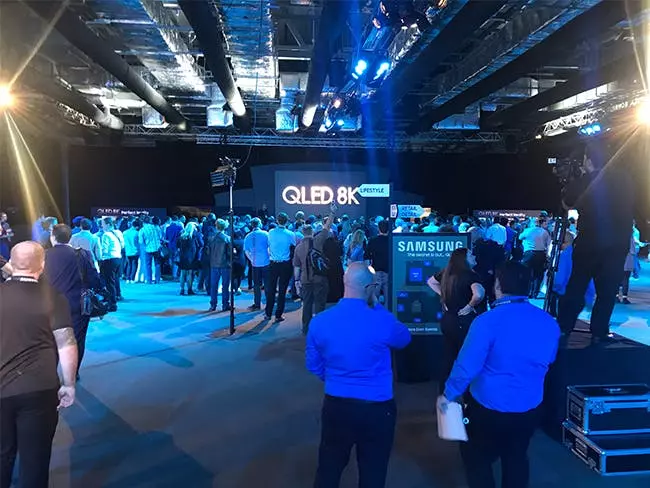 At each event, the 200 participants (per day) split into teams and were guided around the indoor exhibition by a Samsung representative. On arriving at each zone, teams were greeted by a Super Host, who ran hands-on demonstrations of the technology on each stand and presented key product and technical information. Whilst on each stand, participants had to use image recognition technology via the App, to unlock a series of tasks and challenges relating to the information they had seen and heard in that zone.
Challenges included:
Past and Present (a real-life spot the difference): Teams were asked to draw comparisons between two living room set-ups. One from 2010 and the other from 2018. 
In the QLED 8K zone, teams were shown how the new TV's could blend into their surroundings using an image of the room's wallpaper. Teams were then asked to locate and take a photo with a camouflaged Daisy Lowe in a life-sized image from a recent Samsung campaign. 
On the Smartest Fastest zone, teams went head to head in a race to see who could complete a series of actions the fastest on both the QLED 8K TV and alike for like competitor product
In 'Retail Detail' teams were shown how to set up and position the new QLED 8K TV in store to create the optimal visual display to draw in customers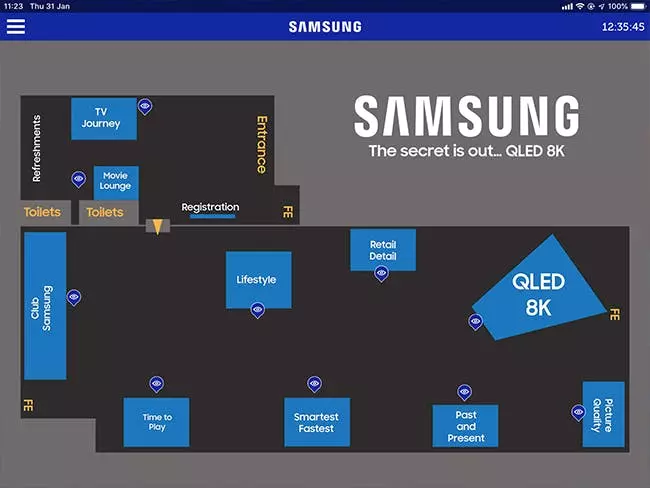 Each training day began with a presentation by Samsung, unveiling the new QLED 8K TV,  Teams were given 30 minutes at each stand to take part in demonstrations and complete the challenges in that zone, before being moved on by their Samsung host. Once every team had been to each zone on the map, a 60-second compilation video of the day (put together by a videographer) was played back to the delegates, which not only made for entertaining viewing but solidified the learning too.
In addition to the in-app tasks and challenges, teams were also encouraged to use the social sharing functionality available through the platform to post live updates about their day and the brand new QLED 8K TV. The hashtag #PerfectReality was automatically placed into all social media posts shared through the App across the 6 events, allowing Samsung and Wildgoose to track reach and participant engagement. At each event, a live social media wall was set up streaming the latest posts from Twitter and Instagram as they came in.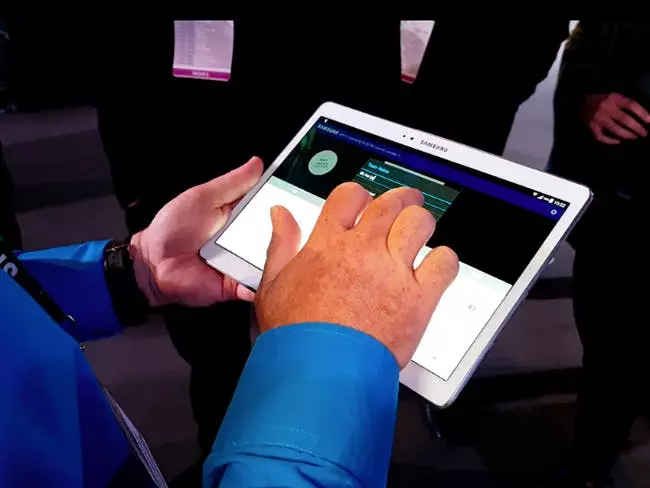 The Results:
The way participants across the 6 events engaged with the new QLED 8K TV, the wider Samsung brand and their other innovative products were truly outstanding. Each one of the events was a huge success, and through interactive activities, our immersive technology and carefully curated content; delegates from all the retailers involved, left with a stronger affiliation to Samsung as a brand and had a more expansive knowledge base of the latest products that they could return to store and train colleagues with. The data capture and feedback tools were used within the App to record participants' engagement throughout the day and gather insights about how valuable they found the interactive exhibition.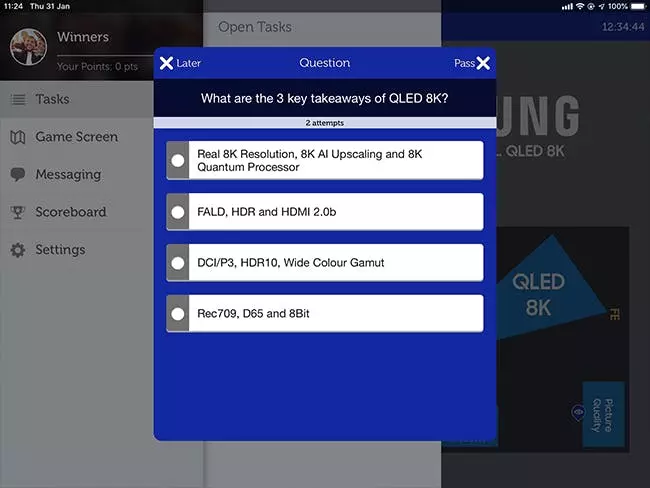 Across all 6 events in London and Manchester, 100% of participants said that they would like to do more interactive product education sessions in the future – with participants commenting that they now felt confident enough to cascade their newfound knowledge to other colleagues back in-store, and even run dedicated internal sessions themselves. With particular reference to the newly launched QLED 8K TV, teams noted that they were amazed by the capabilities of the technology, particularly in areas such as smart tech and gaming, and were particularly impressed by the amount of research and development Samsung do into new technology for their products. Teams left the events with not only a broader knowledge of the tech, but also a commitment to improving the Samsung customer experience.