"Thanksgiving celebrations play an important role in workplace culture. It's a time to show your co-workers your appreciation and gratitude. One way to bring this holiday spirit into your office (virtually or in-person) is with fun Thanksgiving games."
Thanksgiving is a beloved holiday filled with delicious food, time with loved ones and, of course, gratitude. But what about celebrating with the folks we spend our working week with? Research shows that employee recognition boosts morale and happiness in the office, and Thanksgiving is no exception! Put the "thanks" into Thanksgiving and share the spirit of appreciation with your team - it goes further than you think!
Thanksgiving office games are often associated with indoor team building activities and Christmas party ideas. Some workplaces also include them as part of their Holiday team building activities.
Whether your team is remote or in-person, get inspired this season with our list of Thanksgiving office games. This blog includes:
Best Thanksgiving Office & Party Games
1. Virtual Thanksgiving Scavenger Hunt
Created especially for remote teams, our Thanksgiving Scavenger Hunt is the perfect virtual office game to bring teams together. This fast-paced challenge is also great for getting co-workers up and moving (after lots of sitting and eating!) Using the Mobile Adventures app and video conferencing software, teams will play 3 entertaining rounds packed with Thanksgiving-themed trivia, photo and video challenges, and more!
Check out our range of Thanksgiving Team Building Activities and Scavenger Hunts.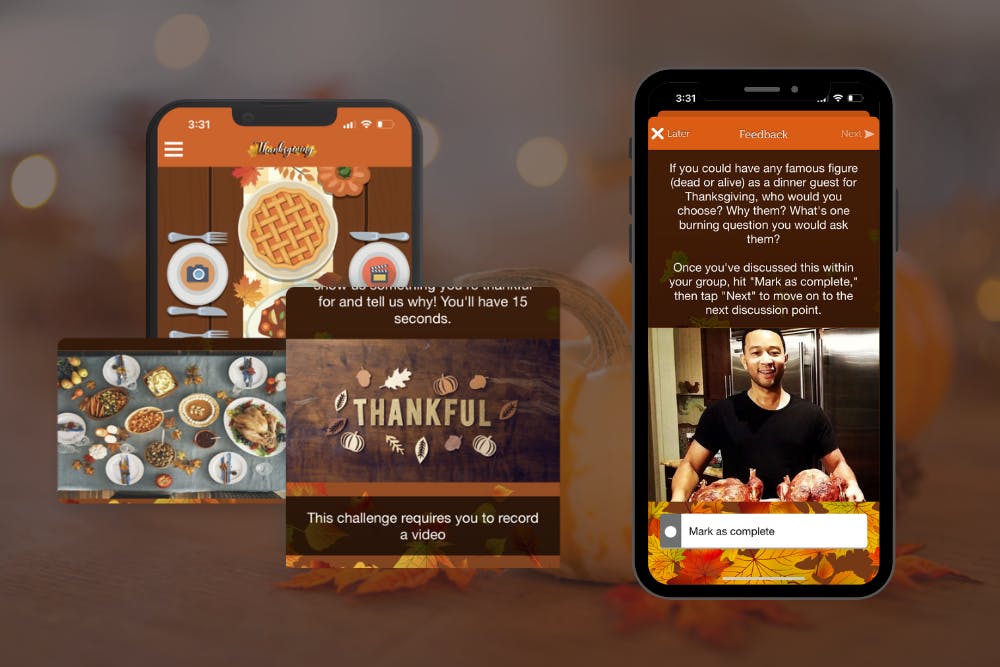 2. Team Turkey Trot
Turkey Trots are a unique way to celebrate Thanksgiving in the workplace. They are traditionally known as foot races that take place on the morning of Thanksgiving across the United States. (Read more about Turkey Trots in this article from Runner's World.) Ahead of the holiday, many organizations now host their own team trot to raise money for charity and to encourage some competitive fun. Why not ask your co-workers if they'd like to take part this year? Running or walking is a great outdoor activity to get teams moving (plus the turkey costumes are added entertainment!)
Who says you can't get active whilst celebrating Thanksgiving? Here's our range of Outdoor Team Building Activities for inspiration.
3. Thanksgiving Virtual Escape Room
If you're struggling with Thanksgiving team building ideas, then an escape room activity could be for you. Virtual Escape Rooms are one of our most popular Thanksgiving office games. These exciting activities enable remote teams to get together online and have fun trying to escape as fast as they can! Crack codes and puzzles using our interactive app and your chosen video conference platform.
Discover more about our Virtual Escape Rooms and Outdoor Escape Rooms.
4. Thanksgiving Icebreaker Games
Icebreakers and Thanksgiving go together like turkey and gravy! Icebreaker Games are 15-45 minute activities that are designed to get co-workers talking and bonding. They are perfect for small groups too! Why not add your own Thanksgiving stamp to the questions? Here's some example questions to get you started:
What is your most random holiday purchase?
If you could choose anyone you wanted, which four guests would you invite to your Thanksgiving dinner?
What co-worker are you most grateful for and why?
Tell us about your most embarrassing Thanksgiving memory
Get more inspiration from our list of fun icebreaker questions for work.
5. Virtual Thanksgiving Happy Hour
If a quick and simple Thanksgiving office game is more your style then we highly recommend a Virtual Happy Hour activity. Our fun, self-managed happy hour is only 30-60 minutes long and includes plenty of trivia and photo and video challenges. You could even add in some Thanksgiving-themed entertainment. Ask everyone to grab a drink of their choice and join together online for some laughs and celebrations!
Find out more about our Virtual Happy Hour activity.
Final thoughts
Celebrating Thanksgiving at work needn't be expensive or stressful. It really is the thought that counts. Encourage your co-workers to connect this November using this list of Thanksgiving office game ideas. For more team building ideas, take a look at holiday team building activities, winter team building, and office games.