"It's never a bad idea to mix your team building event ideas up! Unusual team building activities bring fresh ideas and excitement to the workplace. Trying a new, less familiar activity may uncover hidden skills and talents amongst your co-workers!"
Unusual team building activities are becoming increasingly popular with companies of all sizes. That could be because traditional team building games can sometimes lose their edge if repeated several times. Adding more creative and unique events can help to break up the monotony during the year and keep things interesting for employees.
So, here are our 10 non-cheesy and out-of-the-box team building activities that your team will love!
Unusual Team Building Ideas, Games & Activities For Work
These unusual team building activities are fantastic for Corporate Events or Team Offsite Days. Some incorporate Treasure Hunts, Escape Rooms, Scavenger Hunts, and Crime Scene Investigation games. In this blog, we've covered a host of fun, out of the box team building ideas including:
Unique team building activities
In-person team events
Outdoor Team Building Activities
1. Bar Explorer
Bar Explorer is a unique team building activity with a fun twist. It's part team quiz and part bar crawl - not something you hear very often! It's ideal for teams who want to explore a town or city and combine plenty of social time. Your smartphones and our award-winning app will be your guide as you navigate your location to GPS hotspots. Each hotspot will contain trivia questions and exciting challenges that will encourage creativity! You'll also stop along the way at local bars to connect over a drink or two!
Check out our Outdoor Team Building Activities.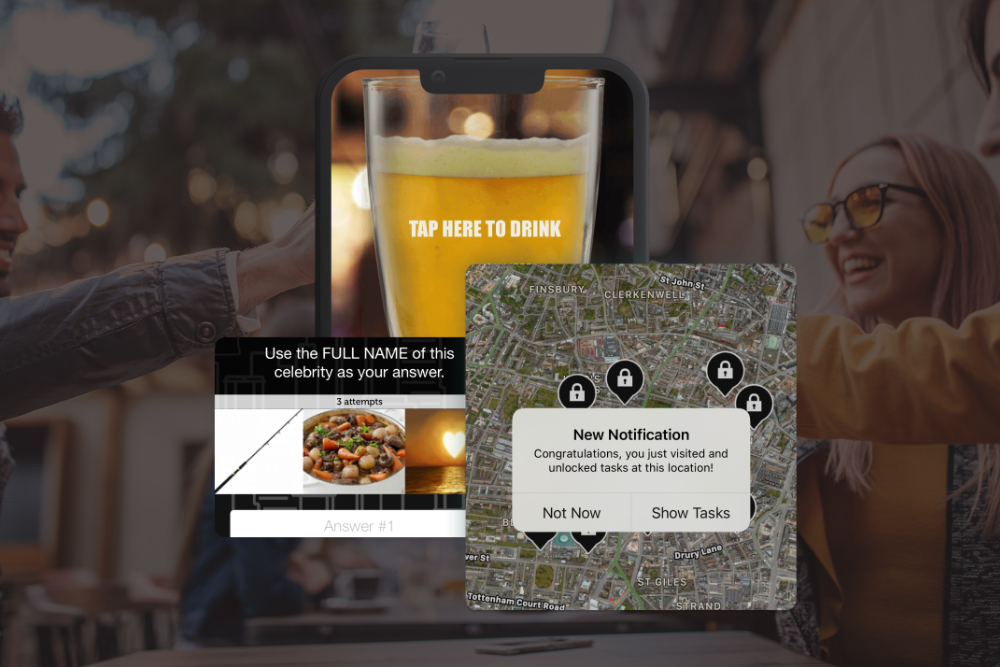 2. Outdoor Escape Room
This is one of our favourite unusual team building activities! You've heard of indoor and virtual escape rooms, but have you ever played an outdoor escape room? Escape: Dark Curse will bring your team together for a fun, magical experience on the streets of your chosen location. Using your smartphones and our interactive app, you and your team will navigate to GPS hotspots filled with challenges and tasks that strengthen your magic skills! Will your team escape before time runs out?
Discover more about Outdoor Escape Rooms.
Indoor Team Building Activities
3. Yoga Class
Yoga can be a fun and mindful experience for groups of all sizes. Whether your yoga class is in-person or virtual, it's an adaptable and unique team building activity that has many benefits. Practicing yoga promotes health and wellbeing in the workplace, and can help strengthen relationships between employees. It can also help lower stress levels and improve flexibility.
Learn more about Beginner Yoga Poses. If you're not sure about a yoga class for your team, why not try a meditation class instead?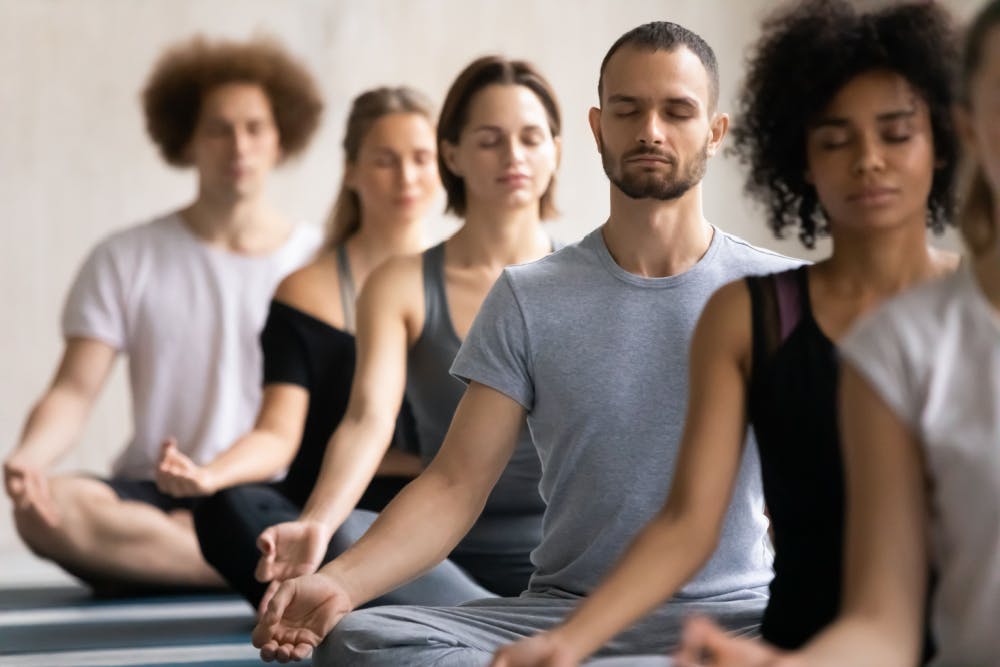 4. Cooking Class
Put your minds (and appetites) to the test! Whilst a cooking class may not seem all that unusual, it is a fantastic team bonding experience. Not only is it fun, but it also promotes communication and trust in a unique way. Whether it's measuring ingredients out, prepping the food or taste testing, we're sure the whole team will enjoy taking part. After all, it's not very often you can say you've cooked a freshly made meal with your co-workers! There are several different cuisine options and foods out there to choose from, with most catering for dietary requirements and/or allergies.
Top tip: Some cooking class experiences offer corporate packages for small and large groups. Remember to ask about this when you enquire.
5. The Pitch
Move over Shark Tank because we've developed our very own version for teams! The Pitch is an unexpected team building activity but one all employees can get on [the] board with. See what we did there?! Working together in small groups, players must create, market and pitch the ultimate product. They'll use their smartphones and the Mobile Adventures app to play through 3 stages, each containing challenges, photo and video tasks and bonus activities. The Pitch is a great event for:
Creative groups or sales teams
Those looking for a budget-friendly in-person experience
Improving communication, teamwork and problem-solving skills
See our Indoor Team Building Activities or In-Person Events for more inspiration!
6. Indoor Skydiving
We couldn't make a list of unusual team building ideas without including one for the thrill seekers! Indoor skydiving is a fun (and cheaper) alternative to jumping out of a plane - some would say less scary too! Participants will experience the sensation of free falling in a vertical wind tunnel alongside a trained instructor. This is a great activity for those who want to conquer height phobias or simply want to do something out of the ordinary. The photos and videos will be the talk of the office for months!
Top tip: Most indoor skydiving providers can cater to those with disabilities or additional needs, however we recommend double checking this when booking.
Check out this Guide to Indoor Skydiving from Go Skydiving by Headout.
7. Pirate's Cove
Another unusual team building activity that everyone is sure to love. After all, it's not everyday you get to be a pirate, right? We recommend adding to the excitement by asking your team to dress up or bring props!
Pirate's Cove is a virtual scavenger hunt that promotes healthy competition and problem-solving. This engaging game will see teams working their way across an interactive treasure map (via the Mobile Adventures app.) They will collect virtual items, unlock challenges and score points as they go. The goal is to reach the treasure with the most points or make it the furthest across the map.
Pirate's Cove is available as a virtual, hybrid or in-person activity.
Virtual Team Building Activities
8. Origami Workshop
Not all unusual team building activities have to be high-energy. Some can be relaxing and creative, like an origami workshop. Origami is the Japanese art of paper folding. During a workshop, teams can make several paper shapes and objects with the help of an artist. Not only is it therapeutic for busy teams but it improves mental concentration and motor skills. Check out these Origami Workshops by Foldability.
This activity can be delivered online or in-person, depending on the company you choose. Top tip: If you're planning a virtual origami workshop, ask your teammates to gather everything they'll need in advance (paper, pens etc.) This will save a lot of time on the day!
9. Jury Service
If your team loves crime-solving games then our Jury Service activities are for you. These unique games combine murder mystery with mischief, and get everyone's detective skills firing. Players act out the role of jurors and must work together to solve the case. It's up to you and your team to review the evidence and deliver your verdict.
Jury Service Games are incredibly easy to set up and do not require an app to play. They can be delivered as virtual, hybrid or in-person. Choose from two cases including:
Looking for more team activities like this? See our Virtual Murder Mystery events.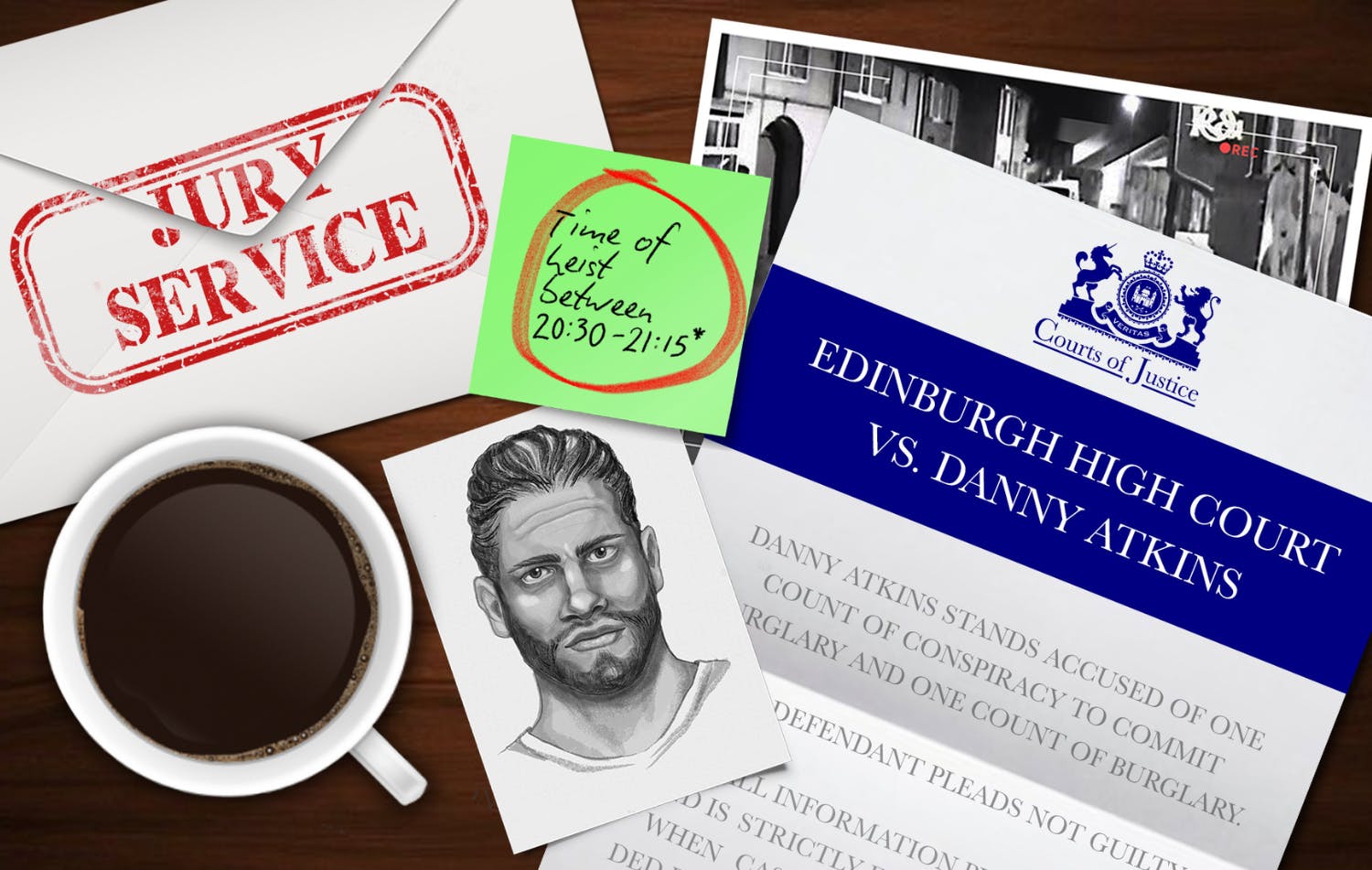 10. Jungle Survival
Fancy working on your survival skills from the comfort of your home or office? We've got you covered with this unusual team building activity for remote teams! Jungle Survival is a virtual expedition (via the Mobile Adventures app) that is packed with immersive challenges, augmented reality, and more. Battle the perils of the jungle and keep an eye on your precious life points, explorers! Jungle Survival is a great option for those who are on a budget or want to challenge their team's strategic skills.
Take a look at more of our Survival Team Building Activities.
Final thoughts
Unusual team activities are designed to boost engagement and morale in new and unique ways. In some cases, they bring co-workers out of their comfort zones too. Unusual team events don't have to be expensive or exclusively in-person. They can be delivered on a budget and can be just as engaging in a virtual or hybrid setting. Whether you choose to surprise your team or not is up to you, but we can guarantee that these unique ideas will shake things up in 2023!
To recap, here is our full list of unusual team building activities and out-of-the-box ideas (indoor, outdoor and virtual):
Bar Explorer
Outdoor Escape Room
Yoga Class
Cooking Class
The Pitch
Indoor Skydiving
Pirate's Cove
Origami Workshop
Jury Service Games
Jungle Survival