"Even if your team works remotely all year, a virtual holiday party is not to be missed. It's a key celebration in the staff calendar, an opportunity to mark the end of the year together. No matter your budget, your co-workers will appreciate the chance to embrace the festivities and have some fun."
Virtual holiday parties have changed the landscape for festive team celebrations all over the world. They offer remote teams a 'sleigh-load' of opportunities to connect at the most wonderful (and sometimes lonely) time of the year. So dust off your festive jumper and get planning this year's virtual holiday party - it would be rude-olph not to!
Popular with remote and hybrid teams, these festive events are often categorised as virtual team building activities or hybrid team games. They can also fall under winter team building activities.
Below is our list of fun virtual holiday party ideas (check it twice!) This blog includes:
Best Virtual Holiday Party Ideas & Activities
1. Virtual Holiday Social
We think every virtual holiday party should include festive trivia - there's nothing quite like it to get everyone in the holiday spirit. Our Virtual Holiday Social is packed with 5 rounds of festive-themed trivia, photo and video challenges, and audio tasks. Compete together in small groups (using breakout rooms) and test your general knowledge on festive music, films, food, and more!
Take a look at our Virtual Team Quizzes for more trivia inspiration.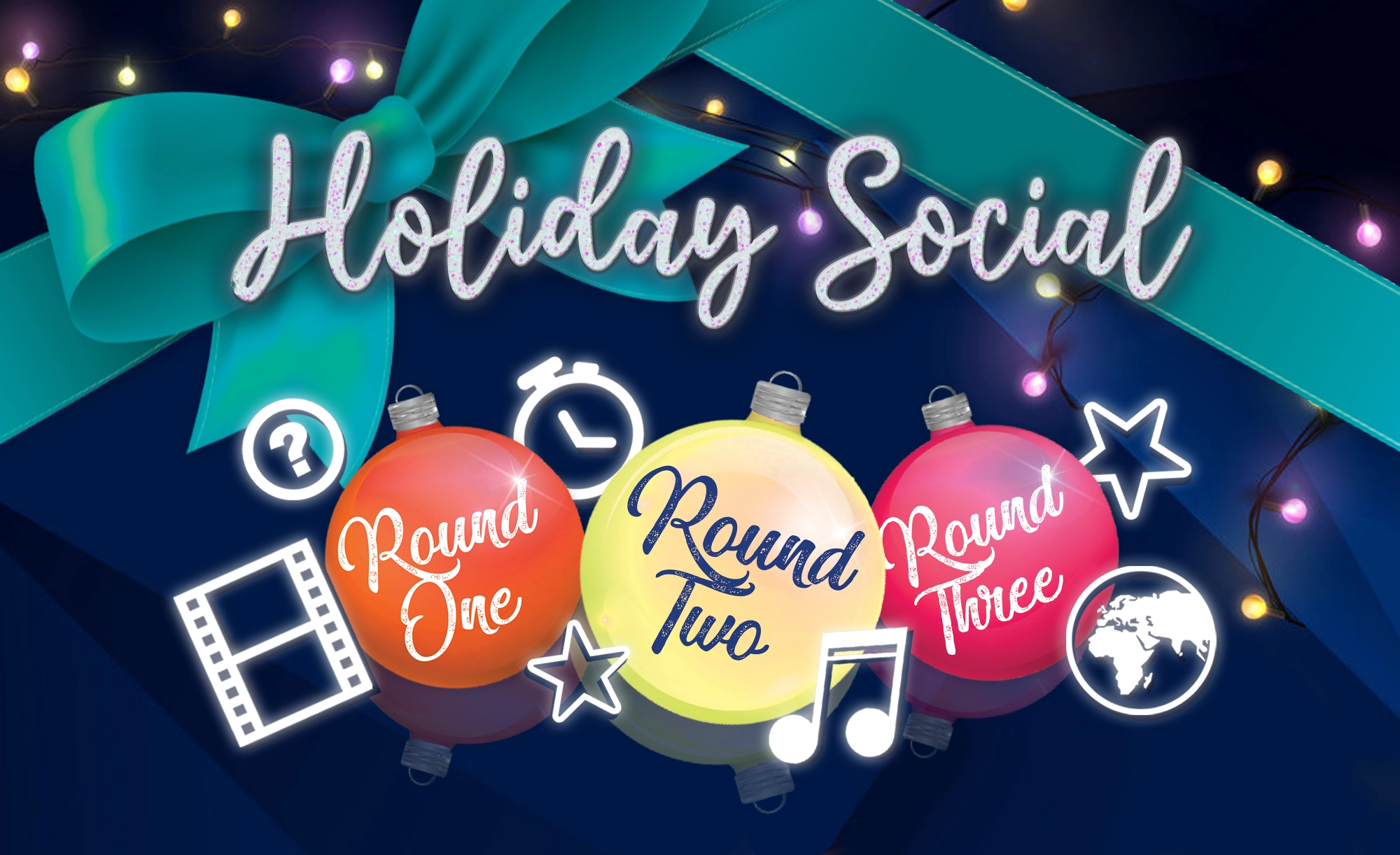 2. Virtual Holiday Party Icebreaker Games
The festive season wouldn't be complete without some great conversations, and that's where Icebreaker Games come in! Before the holidays, it's important for remote teams to establish bonds and finish the year on a high. Just 15-45 minutes long, these snappy activities will encourage engagement and connection between colleagues. Here's our icebreaker suggestions to add to your list of virtual holiday party ideas:
Looking for icebreaker question inspiration? Check out our fun icebreaker questions for work.
3. Virtual Holiday Party Bingo
Online bingo is a classic (and much-loved) virtual holiday party game. It's easy to set up and play too! Grab a festive drink and play as one large team, or split up into smaller teams via breakout rooms. Create your own virtual bingo cards and customize them to fit your holiday party theme!
4. Virtual Festive Escape Room
What's better than a virtual escape room? A holiday-themed virtual escape room! Our Escape: Festive Edition activity is made up of 5 virtual rooms, each filled with festive puzzles, riddles, and brain teasers. Your team's goal is to escape each room and return Santa's list to him before the time runs out and he leaves the North Pole! This fun, fast-paced game is played via the Mobile Adventures app and your chosen video conferencing platform.
Virtual escape rooms are one of our most popular virtual office holiday party ideas. We also run Outdoor Escape Rooms.
5. Around The World: Festive Edition
Around The World: Festive Edition is a 90-minute virtual event designed for remote and hybrid teams. The great thing about this travel-inspired game is that it focuses on year-round festivities from countries across the world. Here's what else we love about this unique activity:
It's the perfect virtual holiday party for global teams who want to learn about different cultural traditions
Virtually explore countries like South Africa, Thailand, Spain, and more via an interactive map screen
Allows remote teams to have fun and engage with one another through creative trivia tasks and festive challenges.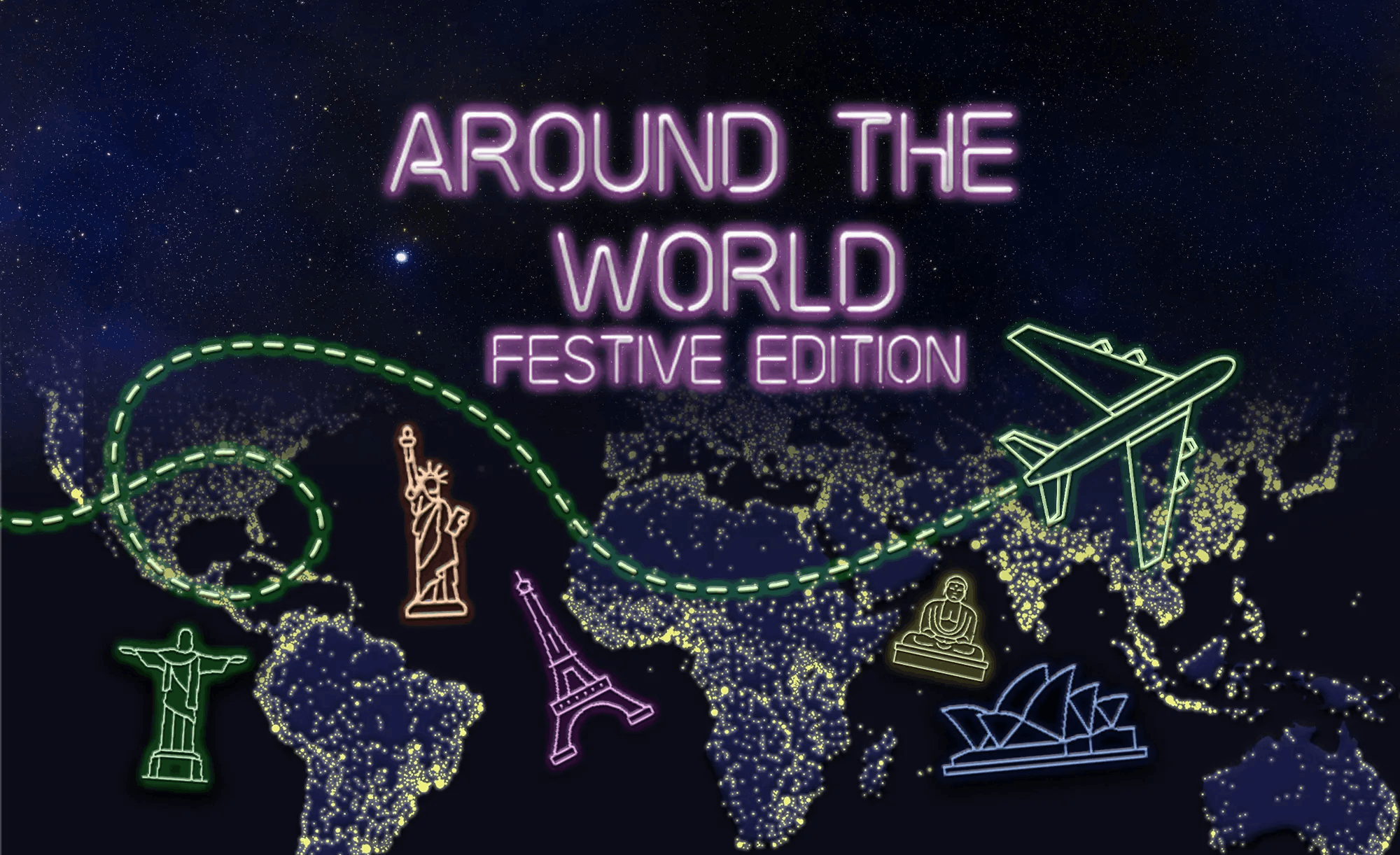 Final thoughts
Whatever your budget or team size, hosting a virtual holiday party is important for employee morale and culture. Show your remote or hybrid team how much you appreciate them and their hard work throughout the year. No matter which virtual holiday party option you choose, your team is bound to end the year happier and more engaged.
For more festive team building ideas, take a look at our holiday team building activities.
In the UK for the festive season? Check out our list of Christmas Holiday Party Ideas.
Virtual Holiday Party FAQs
What are virtual holiday parties?
Virtual holiday parties are team building events (often hosted over Zoom, Microsoft Teams etc) to celebrate the festive season. They are usually played by remote or hybrid teams, and include holiday-themed questions and challenges. Virtual holiday parties are often associated with virtual team building quizzes or winter team building activities. They are also known as 'Holiday team building activities', 'virtual Christmas games', or 'Zoom Christmas parties.'
How long does a virtual holiday party last?
Our virtual holiday parties can last between 45-90 minutes, depending on which activity you choose. Each holiday team building activity includes a live video briefing, 30-60 minutes of gameplay, and an entertaining wrap-up. Don't worry, you'll have plenty of time to connect and celebrate for the holidays!
How do I host a virtual holiday party?
We take the hassle out of hosting a virtual holiday party with our fully-managed festive team activities. All you need to do is book your chosen holiday activity online and we'll do the rest. We provide you with step-by-step instructions ahead of your experience. One of our Remote Hosts will also guide participants through your activity on the day. Here's some our favourite fully-managed virtual holiday activities: