"On the first day of Christmas, my true love sent to me.. Don't worry, they're no partridges in a pear tree here! With Christmas just around the corner we have a treat for you, check out our list of the most popular Christmas songs for the US states! We've even got some tips on how to plan your office Christmas party!"
It's the most wonderful time of the year and you have likely started hearing those catchy Christmas songs in the stores and malls already, but which of these festive earworms is top in your state?

We at Wildgoose have analyzed the average Google search volume across November and December of 65 popular Christmas songs in every US state to find out which are the top of everyone's Christmas playlists, just in time for party season.
Every state's favorite Christmas song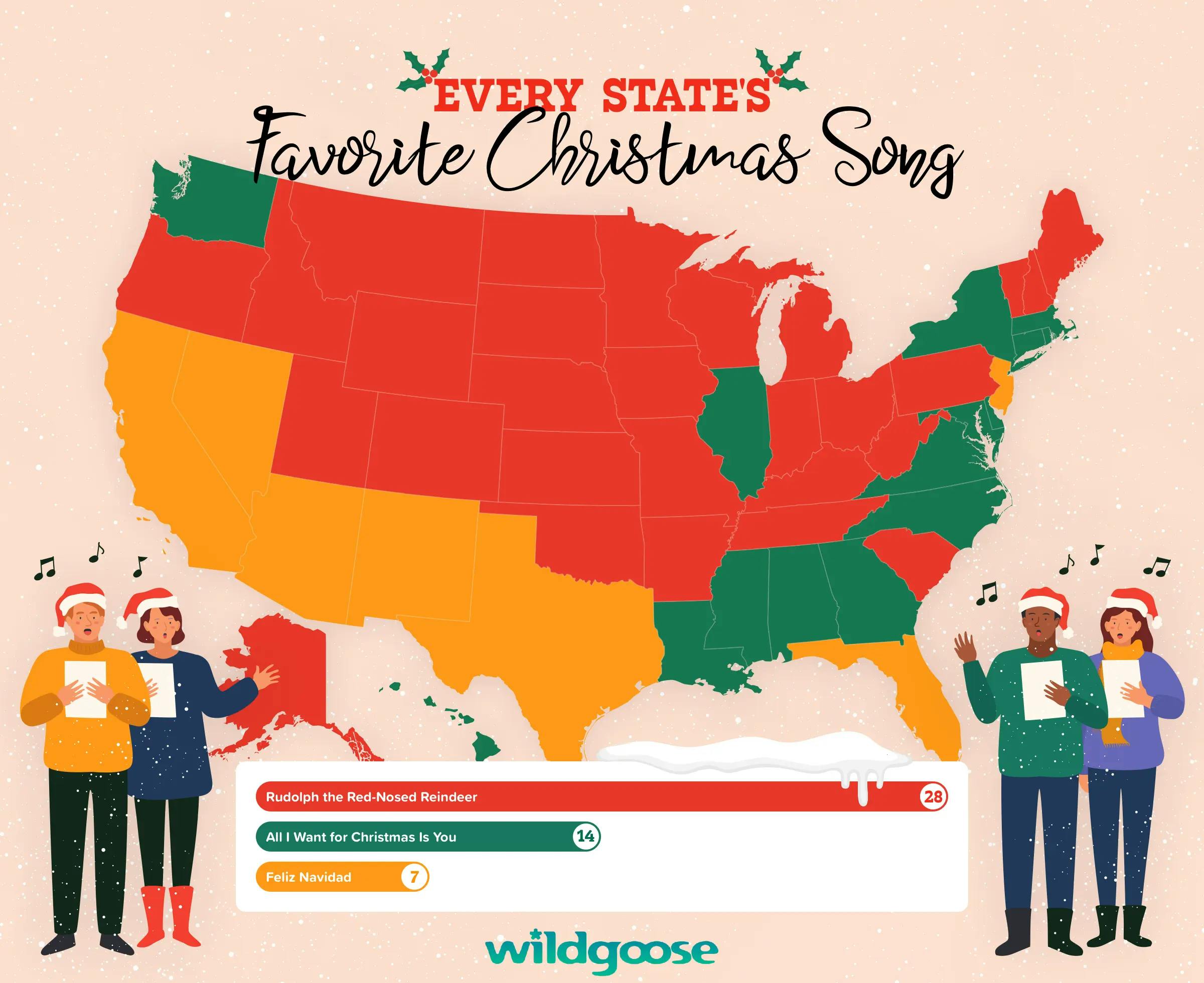 The analysis found that it was a three-horse race between Mariah Carey's "All I want for Christmas is you", "Feliz Navidad" by Jose Feliciano, and "Rudolph the red-nosed reindeer" by Gene Autry and the Pinafores.
Of these it was in fact Rudolph that came out on top, being the favorite Christmas song of over half (28) of the states, including Colorado, Nebraska, and Ohio.
"All I want for Christmas is you" came in second topping lists in 14 states, including New York and Washington.
Feliz Navidad came third being the favorite for seven states, which included Texas.
| Rank | Christmas song | Average search volume across Nov/Dec |
| --- | --- | --- |
| 1 | All I Want For Christmas Is You | 2,300,500 |
| 2 | Rudolph The Red-Nosed Reindeer | 2,011,950 |
| 3 | Feliz Navidad | 1,966,265 |
| 4 | Jingle Bells | 1,693,540 |
| 5 | Frosty The Snowman | 1,180,835 |
| 6 | Jingle Bell Rock | 1,164,845 |
| 7 | Last Christmas | 1,028,985 |
| 8 | 12 Days Of Christmas | 959,570 |
| 9 | White Christmas | 895,245 |
| 10 | Santa Claus Is Comin' To Town | 798,900 |
| 11 | Silent Night | 731,535 |
| 12 | Carol Of The Bells | 699,955 |
| 13 | Winter Wonderland | 455,070 |
| 14 | Let It Snow | 435,910 |
| 15 | Santa Tell Me | 419,265 |
| 16 | This Christmas | 353,100 |
| 17 | O Holy Night | 345,760 |
| 18 | Deck The Halls | 327,375 |
| 19 | Joy To The World | 309,805 |
| 20 | We Wish You A Merry Christmas | 283,750 |
5 tips for throwing a work Christmas/Holiday party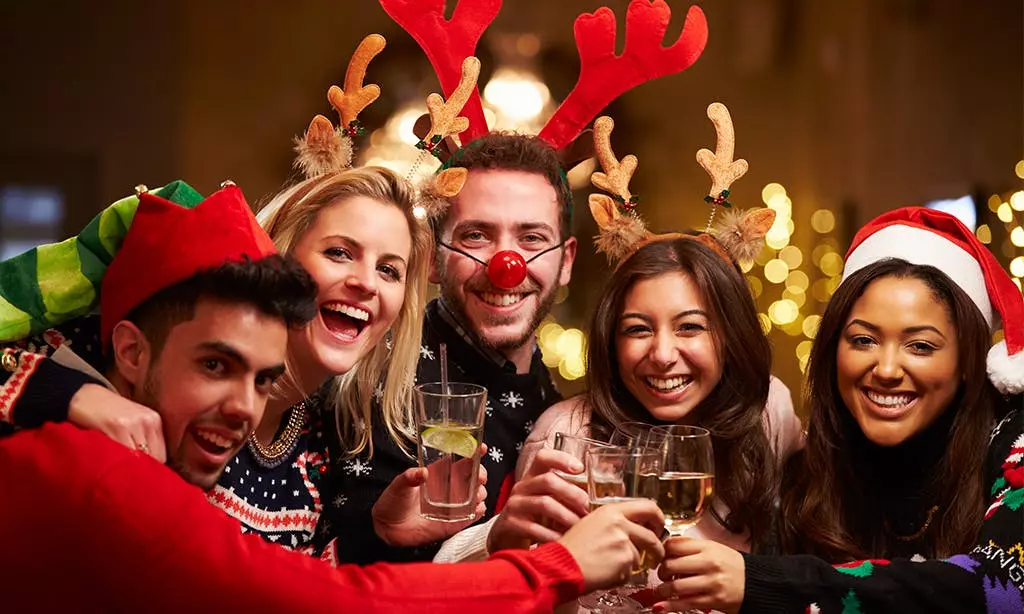 As we enter the holiday season, office parties will start to happen. A holiday party is an essential part of the workplace calendar, not only to boost staff morale but also to celebrate the end of another successful year. But how can workplaces make sure their employees have a fantastic time? We have put together some tips for throwing the best Christmas/Holiday party.
1. Have a shared playlist
Not everyone will have the same taste in music and for some having to be subjected to music they don't like is enough to ruin the whole experience. This is why you should open up the playlist to all of the attendees. 
Send an email asking for contributions or if you have the capability to do so, build an open playlist that people can add to themselves. This will mean that everyone will have a good time and enjoy at least some of the music.
Many holiday office parties can be awkward for some, employees can feel as if they are not able to have fun due to it being a work event. However, employers can help break the ice by hosting a team building activity prior or during the office party. 
There are various options to suit different companies, from in person games to virtual murder mystery events. It can be a great way for employees to bond prior to the party portion of the event, meaning they will feel more comfortable when the time comes to dance and chat.
3. Be inclusive
When planning the fun it is also important to bear in mind that not all employees will celebrate Christmas, but should not be excluded from the celebration, instead it is up to the employer/ party organizer to ensure they are being inclusive of those that may not celebrate Christmas when planning the holiday party.
Make the theme winter wonderland perhaps, avoid religious elements such as a nativity scene and keep the Christmas touches to a minimum- of course, there can still be some, but be sure to make the Christmas parts of the party optional and do not force anyone to participate in a Christmas themed game or even secret Santa.
4. Make it a potluck
To further inclusivity workplaces can make the event a potluck, inviting employees to bring in a dish to contribute to the buffet of food options. This will allow those with different cuisines to share parts of their culture as well as try some more traditional Christmas dishes. 
Be mindful of allergies though and make sure you share this information with everyone involved to keep people safe and promote thorough labeling of dishes.
5. Throw a virtual event
Not all companies are office based, especially since the pandemic, but this doesn't mean there is no opportunity for fun for those working from home. Send out a "care package" for remote workers and organize a virtual team building activity to encourage everyone to get involved and work together, despite being apart.
Browse our offering of holiday team building activities & virtual escape rooms to discover the perfect festive event for your workplace party.